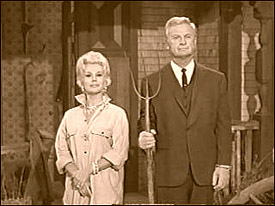 Do you own, lease or rent a suburban home? Does it have a backyard? If so, then you can easily forge for yourself and family a greener existance, a healthier way of life than has been available to most of us in the industrialized world during this last century.
This may sound like a significant change, but there's really no need for drastic action. Relax. You can keep your front yard and rose bushes. Really. There's no need to plow them up to form neighborhood crop cooperatives. No need to break up residential roads to provide grazing land for the goats. Not yet, anyway.
But, with a little bit of initial work and minimal upkeep, you can turn half, or even a quarter, of a standard tract house's back yard into a miniature self-sustaining organic farm. It will keep your family in fresh, healthy produce that is free of unnatural preservatives and pesticides and tastes better than anything you'll find in the stores.
And, in case it matters to you, this is produce that didn't have to be trucked in from farmlands so distant that it cost hundreds of gallons of fossil fuels to reach you. On second thought, maybe backyard gardening is drastic action. Viva la Revolución!
One of the easiest and most productive ways of utilizing every inch of your land is through Square Foot Gardening. Read on...